Clients
over the last 2 decades of experience have included:
Ryan Hunter-Reay
IndyCar, ALMS, Grand Am, Weathertech and more……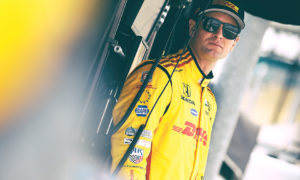 Ryan Hunter-Reay  is a professional American race car driver best known as the only driver to have won races in each of North America's top open wheel formulas, CART the ChampCar World Series and the IndyCar Series. He is The 2012 Verizon IndyCar Series Champion, and 2014 Indy 500 Champion. Along with being the most successful American driver currently competing in open wheel competition, with more race wins than all of the other current American IndyCar drivers (12) combined.
Oriol Servia
IndyCar, FIA Formula E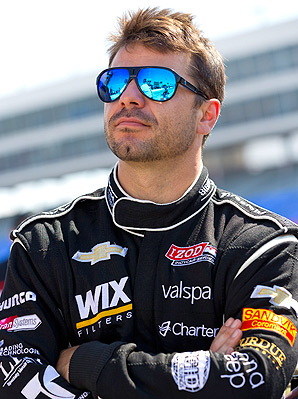 The son of a Spanish Rally champion, Oriol Servia has been racing since he was young, advancing steadily up the racing ranks in series around the world.
Before joining the Champ Car World Series, Servia was the 1999 Dayton Indy Lights champion, finishing second in five races and earning three pole positions. Servia has had success during his career in Champ Car as well. He finished a career-best second in the championship standings in 2005, and gave Dale Coyne Racing its first podium finish since 1996 with a third-place run at Laguna Seca in 2004.
He joined the IZOD IndyCar Series in 2008, and joined Panther Dreyer & Reinbold Racing for the 2012 season.
Servia is a graduate of the Universitat Politecnica de Catalunya with a degree in mechanical engineering. An avid motocross rider, he received his first off-road motorcycle from his father, Salvadore, when he was 2 years old.
Adam Christodoulou
AMG Motorsport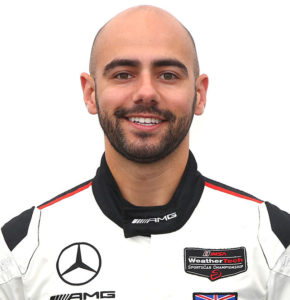 Adam Christodoulou has a strong track record in 24-hour races: two victories at the Nürburging and one each at the Circuit Paul Ricard and in Barcelona are only the absolute highlights of his career in motorsport. Since 2015, the Brit has also been successful as an Mercedes-AMG Driver supporting Customer Racing Teams in international race series. In 2017, he was one of the drivers who got the North-American programme with the Mercedes-AMG GT3 underway at the Daytona 24-hour race.
Sean Rayhall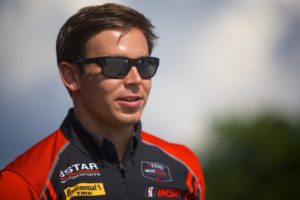 ELMS Champion 2017 United Autosport
In the grand tradition of America motorsports versatility, Sean Rayhall has proven himself one of the sport's premier young racing drivers. Beginning his career racing go-karts at the age of seven, Rayhall's resume to-date is an impressive list of "youngest ever" to: win a formula car race in North America, win the Skip Barber Series and win a Skip Barber National event. He has competed and won on road courses and ovals in open wheel, prototypes, GT sports cars and stock cars earning 11 championships, 80 victories and triple-digit podium finishes… and he is yet to turn 21 years-old.
In 2015, Rayhall raced a limited schedule in the TUDOR United SportsCar Championship – now the WeatherTech SportsCar Championship – Prototype Challenge (PC) class. Competing in only three races, Rayhall captured one podium. In formula cars, the Georgia-native was even more successful despite an abbreviated schedule there as well. Driving in his first partial season of Indy Lights, Rayhall secured two wins – the Indianapolis Motor Speedway road course and at the Mid-Ohio Sports Car Course – six top-five and eight top-ten finishes in eight race weekends, leading 53 laps on his way to finishing all events entered. The open wheel success garnered him a test day with Chip Ganassi Racing running times competitive with four-time Verizon IndyCar Series Champion Scott Dixon in Dixon's own Dallara-Chevrolet. That also gave him a test with DeltaWing at Daytona International Speedway in November. He closed the year with an overall pole position in the NASA 25 Hours of Thunderhill where the team ran up front before retiring after the race's midpoint.
In 2014, Rayhall made 10 starts in the PC class winning twice, taking two pole positions and finishing on the podium in 50 percent of his races. It was Rayhall's 2013 season which gained him early career notoriety. Making his debut in the Prototype Lites Championship, the first-year prototype racer won six of 14 races, finished outside the top-three only twice, earned pole position six times and set nine fastest race laps on the way to his first sports car championship. That success gave him the chance to race in the season-closing American Le Mans Series Petit Le Mans at his home track of Road Atlanta driving to a podium finish.
John Falb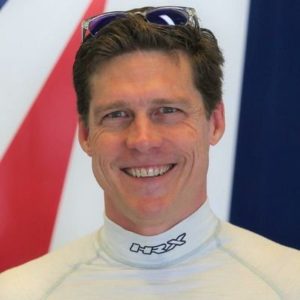 ELMS Champion 2017 United Autosport
John Falb began his road racing career on two wheels with Willow Springs Motorcycle Club earning the top rookie expert in the first year and continuing on to win 5 third place championships and completing 70 races.  With a passion for endurance racing he finished the inaugural Toyota 200 and then went on to four wheels and raced in a 14 and 24 hour Chump car events. Racing spec Miatas and Radical Sportscars, he won the Radical Club championship two years in a row and the 2014 Radical Cup USA championship.  In his first year of IMSA Prototype Lites competition he finished fourth overall with the Masters Championship.
Stefan Johansson
ALMS, FIA WEC, Former F1 Driver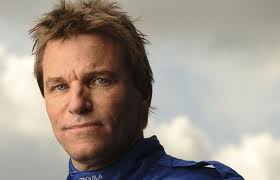 For almost three decades Stefan Johansson has been one of the top drivers in the world of international motorsports. He has been successful in Formula One, IndyCar and Le Mans style sports car racing, winning both the 12 hours of Sebring twice (Porsche, Ferrari) and the 24 Hours of Le Mans (Porsche).
Kerstin Smutny
Open wheel, and Company Sponsored Client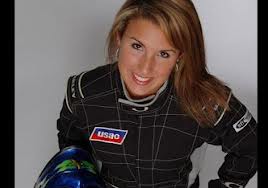 Smutny isn't likely to be found following in someone else's footsteps, rather you will find her blazing her own trail and leaving others in her wake. In 2005, Smutny was the first woman to be invited to the Formula BMW USA licensing course in Valencia, Spain. Subsequently, she was chosen as one of the best drivers participating in the licensing course to be invited back to Valencia for the Formula BMW USA Scholarship Run-Offs.
Rebecca Jackson
Performance Physixx LLC Official Ambasador and Celebrity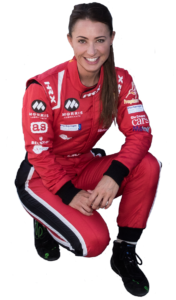 Rebecca Jackson began circuit racing in 2011, achieving five podiums incl a win in the 2nd season. One of her greatest works is the Project Le Mans launched in 2013, her four-year plan to join the most prestigious endurance race in the world.
Rebecca can be found on major channels such as Sky News discussing current motoring issues and has work published in GQ Magazine, Auto Express and The Sunday Times. She holds a Guinness World Record for the most number of countries visited on one tank of fuel, in conjunction with Audi and RAC.
After self-starting a used car sales business in 2007, Rebecca was able to embark on a racing career, success began with 5 podiums in her second season of competing in the Porsche 924 Championship. She then stepped up to race a Porsche Boxster in line with Project Le Mans, her four-year plan to race at the BRSCC Production Porsche Boxster Championship. In 2016, she competed in The European GT Series in a KTM X-Bow GT4 run, finishing in 3rd place in the Reiter Young Stars Championship. In 2017, Rebecca competed in a full season of MINI CHALLENGE and plans to take part in the Dubai 24-Hour.
To accompany an already busy schedule, she can also be found on ITV4 presenting I Want That Car, guest appearances on Fifth Gear, live hosting for Goodwood and after-dinner-speeches, as well as co-starring in a new show on CBBC called "Ali A's Superchargers". This complements her role as Michelin Inspirational Woman, which she was awarded in 2012, 2013, and 2014; inspiring young ladies to fulfil their dreams and achieve their goals. She is also a charity Ambassador for the Charity Fuel Card, SMART RISK and a patron for the Help the Heroes 4×4 European Rally.
Kyle Tilley Motorsports
Professional Sports Car Driver and Driver Coach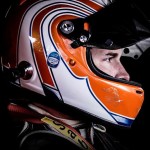 Kyle has been involved in the motorsport industry since he started karting age 6. Kyle has driven professionally in races all over the globe, conducted product development for some of the most prestigious automotive brands in the world, and has been an instructor a variety of driving schools and experiences.  Kyle is currently driving for the #81 Bimmerworld BMW in the IMSA Continental Tire Sportscar series.
Kyle's experience in driver education and safety, as well as his profession driving completion experience, gives APEX an edge on our competitors.
Nicholas Silva
The 19 year old Nicholas Silva is an up and coming American racing driver and athlete in the world of motorsports. With a diverse and unique resume full of accomplishments, Nico is well set on his way to his goal of reaching a top-tier pro drive.
Jerry Kaufman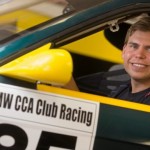 BMW CCA Club Racing Gentleman Driver
National champion driver and co-owner Jerry Kaufman, who is just beginning to reach his full driving potential, along with team driver Anthony Maganoli who is already known as a force on the track every weekend, together they are bringing a new level of accomplishment drive and ambition to BMW series racing. This is just the beginning.
Neil Alberico
Wayne Taylor Racing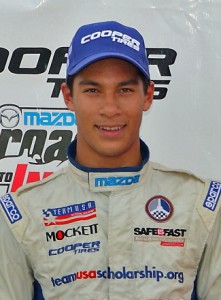 The month of January is traditionally rather quiet on the North American open-wheel auto racing calendar. But thanks to the Team USA Scholarship, talented youngster Neil Alberico, who finished a close second in this year's Cooper Tires USF2000 Championship Powered by Mazda, winning a series-high six races, will have an opportunity to enhance his preparations for a graduation to the Pro Mazda Championship Presented by Cooper Tires by contesting the highly acclaimed Toyota Racing Series in New Zealand.
Derek DeBoer
TRG Pirelli World Challenge

Derek DeBoer has racing running through his veins. The Ashland, Oregon native grew up in a family where racing and the love of cars was very much at the center of every day life. Derek's grandfather raced in the local dirt car circuit, and his father followed with Top Alcohol dragsters.
Once in college at Oregon State, Derek moved into competitive sport and began wakeboarding at the pro level as a Liquid Force team rider. He married the love of his life, Brooke, soon after graduating and together, 18 years later, they're still chasing their dreams along with their three beautiful daughters Paige, Haylee and Ryann.
Those dreams have always included professional auto racing. Derek's pro racing career began 18 years ago at Laguna Seca in Formula Dodge. He has also raced in the competitive Formula Renault open wheel series and spent several years in the ST class of Grand Am. No stranger to the world of endurance racing, Derek has won at Le Mans and has had a top 10 finish at the Rolex 24 Hours of Daytona. He's raced multiple times at the 25 hour at Thunderhill and has competed in many IMSA Continental Tire Series races.
Derek found a home racing for The Racer's Group in Aston Martins in 2013, and added Lamborghini in 2015. He is always a threatening contender in the Pirelli World Challenge, racing in the GTS and SprintX categories, and in Lamborghini Super Trofeo, consistently coming away with great finishes and podiums.
Derek had a breakout season in 2016 including two wins at Road America and Utah Motorsports Campus and seven podium finishes including runner-up trophies at Laguna Seca, Circuit of the Americas and Canadian Tire Motorsports Park.
When Derek isn't in his race car, or being a husband and busy father, his efforts stay aimed in the auto world. Derek is a part of a small auto group in Southern Oregon and is the General Manager of his Ashland dealership: TC Chevrolet. Recently, he has also thrown his hat back into the ring with his first love in professional sports: wakeboarding. Derek was part of a start up company designing and manufacturing the world's best wakeskates. Every opportunity is a welcome challenge and Derek's role with TRG is one that he has welcomed with open arms.
Katherine Legge
CART, IndyCar Series, ALMS, Weathertech, NASCAR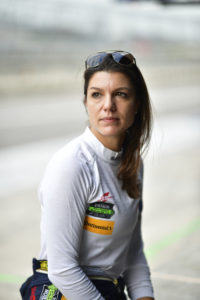 Around the same time of the Champ Car and Indy Car merger, I had the opportunity to go to Spain and compete in a shoot-out to determine who would be a part of Audi's factory driver line up in the DTM. At that time, everything was rather unsure in the USA with regards to which teams would be making the cross over and what exactly would happen with the merger—so I chose the safe route (which is quite unlike me!) and decided to go back to Europe and try my hand at the world's top Touring Car Series—which is a bit like our version of NASCAR.
However, over the three years there I continued to keep one eye on the IZOD IndyCar Series and what I see for myself, as a bit of unfinished business in the USA. I enjoyed my time in the DTM, learning to be the best athlete, driver, and person that I can be. But, I missed most of all the racing, people and places in the USA.
Billy Johnson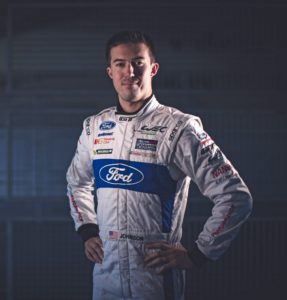 Professional Racing Driver, FIA WEC, NASCAR XFinity

Billy Johnson made his racing debut in 2000 at the age of 13 racing go-karts. The half-Japanese Californian has won multiple championships at the local, regional, to national level. In 2003, Billy moved up into auto racing after winning the Skip Barber Racing School scholarship. The next day he flew to Valencia, Spain and won another scholarship from BMW AG for the inaugural season of the Formula BMW USA championship. In the 2004 F-BMW season, Billy Finished 5th in the championship as well as received the Sportsman of the Year award.
Over the last five years, Billy has raced in the FIA WEC, NASCAR XFinity, IMSA/Tudor/Grand Am Rolex, IMSA Continental Tire Sports Car Challenge (CTSCC), Speed World Challenge, Formula Star Mazda Pro, Formula BMW, Skip Barber Regional and National Series, Super Street Time Attack, Redline Time Attack and many import tuner shootouts and competitions for magazines. In those series, Billy acquired 52 wins, 108 top five finishes and an additional 129 top ten finishes. Billy is also a private driving coach for regional and national race series and is hired by Ford to teach advanced road course techniques to their Sprint Cup and Xfinity drivers.
In the past 10 years, Billy has more victories and top-3 podium finishes than any driver in the Grand-Am Continental Tire Sports Car Challenge (CTSCC) Series with 23 wins, 49 podiums, and 60 top five finishes.
Billy has been a serious contender in the NASCAR Xfinity series road courses. He challenged for wins at Montreal in 2012 driving the #60 Roush Fenway Ford Mustang but had to pit from 2nd with 2 laps to go for fuel and finished an impressive 8th place after restarting 21st. In 2013 Billy had a dominant performance at Road America in the #16 Roush Fenway Ford Mustang before a late race accident damaged his car. A few weeks later, Billy made his NASCAR oval debut in the #16 Boston Strong Mustang in Loudon, NH. With only 5 days of oval experience under his belt ever, Johnson finished an impressive 15th place on the lead lap in a field of Nationwide and Cup regulars.
Besides working on his driving career, Billy is a graduate from Cal State University, Fullerton with a degree in Business Administration. Billy also works as a test driver for Ford Motor Company, Multimatic Motorsports, Roush Fenway Racing, for automobile and tire manufacturers, as a driver for manufacturer demonstration days, and does setup and chassis development for aftermarket tuning companies and race teams..
Matt Howson
Professional Race Driver and Performance Coach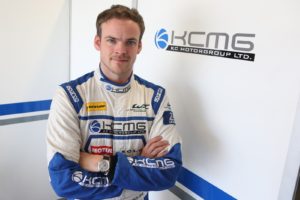 Matt joined Performance Physixx in late 2017 to utilise our custom based training programmes to better be able to educate the Drivers he works with towards fine tuning their need for human performance services, and ensuring these are specific to the individual driver and their personal racing and cockpit requirements.
Howson Racing was created in 2003 and incorporates the personal racing career of Matt Howson, and high performance driver development, coaching and mentoring. The driver development aspect of Howson Racing is in continuous evolution using a combination of over 17 years of industry experience and a First Class (BSc Hons) degree in Psychology.
Successful personal National and International motor racing career from 2000 to present, including UK Formula Ford, UK Formula Renault, UK Formula BMW, Japanese and Asian Formula 3, World Endurance Championship and Le Mans 24 Hours. Most recent highlights are victory at the 2015 Le Mans 24 Hours in LMP2 and 2nd place in the 2015 LMP2 World Endurance Championship, following 3rd place in the series in 2014.
Howson Racing has helped develop racing athletes focusing on technical, mental and psychological preparation since 2004 in;
– Formula Ford
– Formula BMW
– Formula 4
– Formula Renault
– Euro Formula 3
– BRDC Formula 3
– Indy Lights
– GP3
– GP2
Long term and exclusive team relationships include Raikkonen-Robertson (now Double R) 2007-2010 and Fortec Motorsport from 2011 to present.
Howson Racing Development currently mentors drivers in 4 championships including Formula Renault, BRDC F3, GP3 and Indy Lights. Previous young driver roster includes GP3 champion Alex Lynn, Mclaren Autosport Award winners Oliver Rowland, Jake Dennis and Matt Parry and Formula Renault Eurocup Champions Jack Aitken and Lando Norris.
Patrick Dempsey
Grand Am, ALMS, FIA WEC
A lead driver and owner of Dempsey Racing, Patrick Dempsey is in his fourth full season of GRAND-AM Rolex Sports Car Series GT class competition in the No. 40 VISIT FLORIDA/ModSpace/Construct Corps/Dempsey Racing Mazda RX-8 GT.  He co-drives with teammate and Dempsey Racing business partner Joe Foster, and the two have been racing together for seven years after first meeting when Foster was Dempsey's racing school series instructor.  Patrick has continued his motorsports journey by progressing successfully to the FIA World Endurance Championship (WEC) with Porsche. Dempsey is one of today's top television and film actors.