All She Wants To Do Is Race — And Win
'Katherine Legge Rocks'
British Driver Katherine Legge Brings Her Passion For Racing To Caterpillar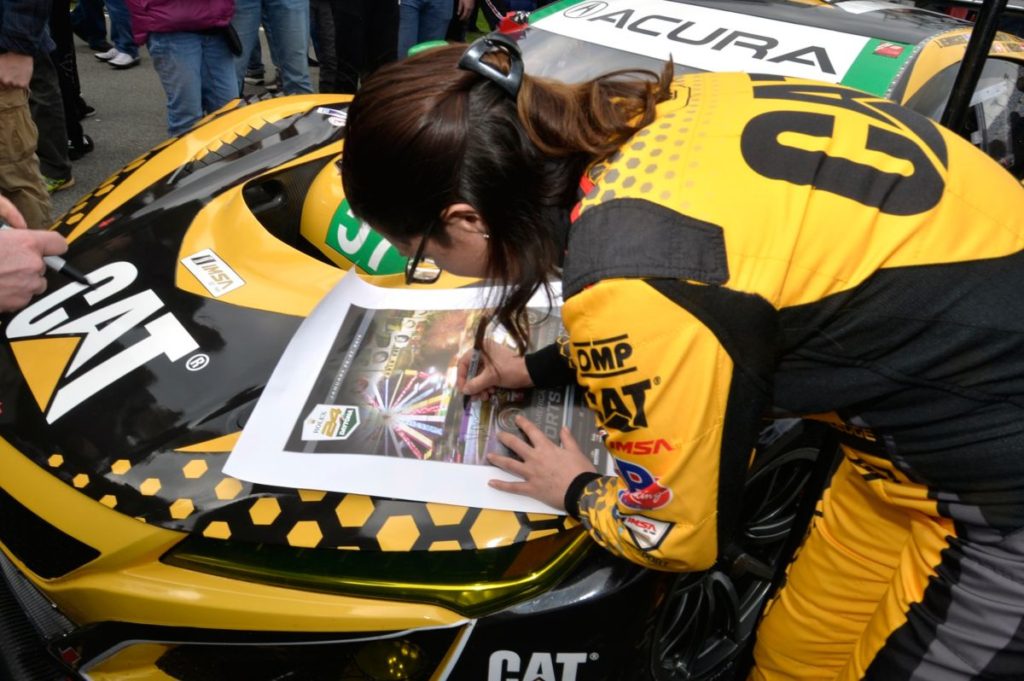 Article reposted from https://www.catracing.com
British Driver Katherine Legge Brings Her Passion For Racing To Caterpillar
Ask Katherine Legge what she'd be doing if she wasn't driving a race car, and the smile that's ever-present when she talks about her livelihood quickly disappears.
"That is the scariest question anyone can ask," says the native of Guildford, England, who is one of five female drivers taking the wheel of No. 57 MSR Acura NSX GT3 race car, sponsored by Caterpillar, in 2019. "I've put so much blood, sweat and tears into racing. It's all I think about, all I ever wanted to do. My life is racing and has been for a long time now."
Breaking Records & Breaking Down Barriers
Now 38 years old, Katherine caught the racing bug at age 7 when she watched her dad and uncle drive the fun karts on vacation. She didn't meet the height requirement to ride, but when the family came home, her dad spotted an ad for the local go-kart track and took her for a spin.
"I fell in love with it there and then," Katherine says. "That Christmas, my dad bought me a go-kart, unveiled it on Christmas morning and said, 'Now you get to go racing.'"
Go racing she did. Champ Car World Series, DTM, IndyCar, American Le Mans, IMSA Tudor United SportsCar Championship, IMSA WeatherTech Championship — these are just a handful of the series in which Katherine's competed over the past few decades. She's won three championships, six races and 15 podiums. She's driven the innovative DeltaWing. And she's broken countless barriers. Just Google Katherine's name and you'll find yourself reading the words "first woman to…" over and over again.
"My favorite saying that I've used for years now is that the car doesn't know the difference," Katherine says. "The team doesn't care whether I'm male or female, black or white. They just want the best racing driver they can get."
Speed Round With Katherine Legge
Last TV show you binge watched? I'm in the middle of True Detective and just finished Big Little Lies.
All-time favorite race car driver? Ayrton Senna. I watched him when I was 9 race in the rain in England.
Facebook, Twitter or Instagram? Instagram. I like looking at pictures!
Pre-race meal? Rice and veggies. I'm a vegetarian, which makes life at a racetrack a little bit difficult.
Post-race meal? I do maybe indulge in some French fries after a race.
Any superstitions or good luck charms? I have a four-leaf clover my mom gave me when I was a kid. And I always wipe my feet on the tarmac to scuff them up a little bit.
Beach, mountains or somewhere else? Mountains. I love the fresh air and being outside.
Favorite racetrack? Road America closely followed by Watkins Glen. I love old, storied racetracks with personalities.
Most daring thing you've done outside of racing? I jumped out of an airplane a couple times.
If you weren't a race car driver, what would you be? I'd have to do something involved in racing in some way, shape or form.
Competing & Partnering With The Best
When entrepreneur and racer Jackie Heinricher approached Katherine with her plans to compete for the 2019 IMSA WeatherTech Sports Car Championship with an all-female driver lineup, Katherine agreed to participate on one condition — that those other drivers be among the best in the world, too.
"I didn't want to do it if it was going to be a gimmick," she says. "I want to be taken seriously, and I want to win."
She couldn't be more thrilled with the team she and Jackie put together, which includes Bia Figueiredo of Brazil, Christina Nielsen of Denmark and Simona de Silvestro of Switzerland.
"We've all been successful in our own right, and we've all been taken seriously as individual drivers," Katherine says. "But we've also all been fighting against that 'girl driver' label. Now we have the opportunity to make a statement."
Doing so in a car that bears the Cat logo lends the effort instant credibility.
"We're all very proud to carry the Caterpillar name on the car and on our race suits," Katherine says. "To be given the opportunity to partner with them is an honor. It's such a diverse, global company and one of the biggest names in racing, too. We all feel we have to do it justice."
Challenging Herself & Inspiring Others
For Katherine, doing it justice means giving every lap of every race her all.
"If you leave the race knowing you've done the very best job you can do, that's success," she says. "I will do everything in my power to make this team the best it can be."
To compete at the highest level, Katherine puts in long hours between races practicing, training and traveling — a hectic schedule that doesn't leave much time for relaxing. And she admits her Type A personality doesn't allow for a lot of kicking back.
"I do things to challenge myself constantly," she says. "I need to train, and I need to have a goal to keep me motivated to train, so I did an Ironman. I set a goal to finish in under six hours and I did it."
Katherine does make time to serve as a STEM Ambassador for the Girl Scouts and loves speaking with young women about career opportunities in science, technology, engineering and math.
"I never realized what I did was STEM-related in any way until someone pointed it out to me," she says. "I didn't think science was anything I would be interested in until I realized it was what I'd been doing my whole life. I personally want more young girls to get involved with science."
Sharing the message that girls can succeed in male-dominated fields is a responsibility Katherine takes seriously, and she credits her parents for believing in her dreams way back when.
"My dad instilled in me from a very young age that I could be anything I wanted to be," she says. "He's still always there to support me — he literally comes to every race. And my mom is there behind the scenes, supporting me from afar."
She's certainly done them proud, with no plans to stop — or even slow down — anytime soon.
Follow Katherine Legge and the rest of the No. 57 team in their quest for the 2019 IMSA WeatherTech Sports Car Championship on CatRacing.com.