RHR great start to the Verizon IndyCar Season P4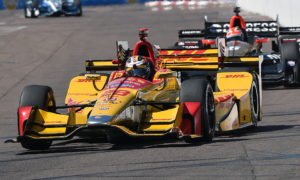 THIS IS WHY DRIVERS TRAIN:
"I just looked myself in the mirror and said, 'All right, get over it. Let's get out and race,'" Hunter-Reay said. "The guys fixed the car. I have a lot of faith in what this Andretti Autosport crew does. I knew it was behind me."
The joy of recovery outweighed the fright and frustration. Scary? Yes. Worth it? Yes, again.
"On these street circuits, we're coming into these corners at 180 mph," Hunter-Reay explained. "It's nothing but a concrete barrier that you're looking at. It's a very unique sport in that way. There's nothing like it in the world. Formula One runoffs are 18 times this size. We race on some pretty dangerous racetracks, and that's part of our job. We love it." RHR
Hunter-Reay makes two recoveries to finish fourth at St. Pete
"TRAIN HARD AND RACE EASY"