RHR will be back to challenge in 2014
2012 title illustrates Hunter-Reay's mind-set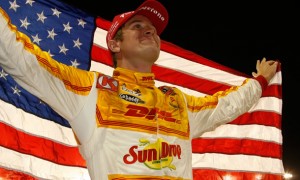 By Dave Lewandowski
Published: Oct 10, 2013
Returning to Auto Club Speedway for a manufacturer test Sept. 24, the accomplishments of 53 weeks earlier were momentarily relived by Ryan Hunter-Reay.
The Andretti Autosport driver, who entered the MAVTV 500 INDYCAR World Championships season finale on the 2-mile oval trailing championship front-runner Will Power of Team Penske by 17 points, was spurred to a fourth-place finish that delivered his first series title by a scant three points.
"When I was walking into the (media center), I was remembering making some laps after I won it. I have some great memories of that moment. I definitely took everything in," he said. "(The test day was) not as much fun as the memories that I have of this room."
Interviews came in rapid succession in the glare of TV lights, with Hunter-Reay hugging the Astor Cup, following the edge-of-your-seat contest, which was a microcosm of his season. Seventh in the championship standings following the June 9 race at Texas Motor Speedway, Hunter-Reay rattled off three consecutive victories to grab the points lead by 34. He was supplanted by Power at Mid-Ohio in early August, who extended the margin to 36 entering the penultimate race at Baltimore.
A victory by Hunter-Reay on the street circuit cut the gap to 17. Combined with Power's early race crash and his fourth place, an elated and humble Hunter-Reay visited the media center at Auto Club Speedway.
"I always believed that if I got the right opportunity and worked hard enough that I could be in this position or I could be in the position to win races," Hunter-Reay said. "But then you go from wining races to competing for a championship, and that comes with another level of consistency. That comes from the contiuity and a team that believes in you."
Hunter-Reay won't have the opportunity to defend his series title in the 250-lap season finale Oct. 19 at Auto Club Speedway. The No. 1 DHL car was eliminated from contention last weekend at Houston, though there's always something to shoot for — such as his first victory since mid-June at Milwaukee.